Pipeworx Supports Indigenous Communities with Donations to Horse Lake and Alexander First Nation Christmas Drives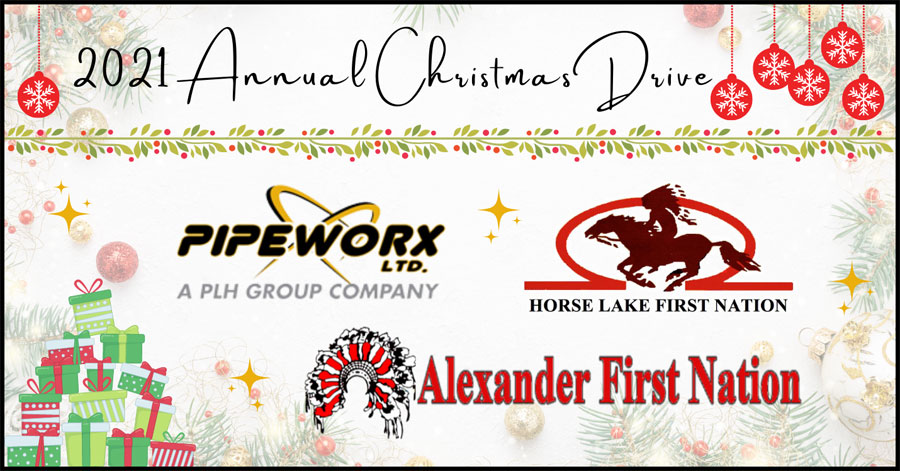 When the holidays arrive, it signifies the beginning of a warm and cozy season of gifting and spending time with family…for some. It is our mission at Pipeworx Ltd. to ensure that all people of indigenous communities are able to properly celebrate this joyful season as well.
With many thanks to organizations like Horse Lake First Nation and Alexander First Nation and their dedication to Christmas drives each year, Pipeworx Ltd. has been able to contribute directly to our community in an effort to bring extra cheer during difficult times. This year, we were able to send donations to both Horse Lake First Nation and Alexander First Nation that will work twofold: first, to ensure that all kids in the indigenous communities will receive a gift and second, that all elders will have a warm meal. Donations are used to purchase toys, gift cards and Christmas food hampers for those who are in need.
This year, aid efforts looked drastically different from previous years. Due to the pandemic, many events and volunteer opportunities were removed for the overall health and wellbeing of the communities and charitable organizations. This made monetary donations even more vital. We are grateful to Horse Lake First Nation and Alexander First Nation for taking on these challenges and crafting a lovely Christmas for so many who would have otherwise gone without.
Horse Lake First Nation is headquartered near Hythe, Alberta, Canada. Being a party to Canada's Treaty 8 and member of the Western Cree Tribal Council, their community's mission is to preserve and maintain its cultural heritage while ensuring a strong economic framework for future generations. Services they provide to their members range from finance and health to education and housing.
Alexander First Nation is headquartered in Morinville, Alberta, Canada. While providing health, social, educational and housing services within their community, their primary mission is "to protect our Inherent Treaty Rights through tactical initiatives, community enhancement, law development and continuous improvement."