Pipeworx Partners with Local Indigenous Community to Create Reconciliation and Empower Change
As seen in North American Energy Pipelines and World Pipelines
At the foundation of Pipeworx's safe, quality delivery of pipeline and facilities services lies corporate responsibility. This includes the company's commitment to reconciling its unity with nature and creating long-term relationships with Indigenous communities who live and work on the land where Pipeworx operates.
Even prior to the start of a project, Pipeworx embraces diversity and inclusion, which is enhanced by open, honest teamwork and two-way involvement. There is no greater example of this commitment to reconciliation than the partnership between Pipeworx and Alexander Business Centre.
Alexander Business Centre, Inc. (ABC) is a fully structured organization with the vision of building economic diversity within the Alexander First Nation community. ABC strives to create long-term partnerships with businesses that work within or near the nation through member involvement to enhance project delivery while maintaining respect to cultural traditions and the environment.
Upon its formation in 2018, ABC formalized its collaboration with energy companies by engaging in jointly owned and operated joint ventures through ABC's construction-focused subsidiary Alexander Contracting and Construction (ACC). These partnerships afforded ACC to establish themselves in the market. However, after continued success, ACC's goal changed from industry establishment to creating 100% nation-owned energy companies. But they needed strong partnerships to make this transformation.
Enter Pipeworx.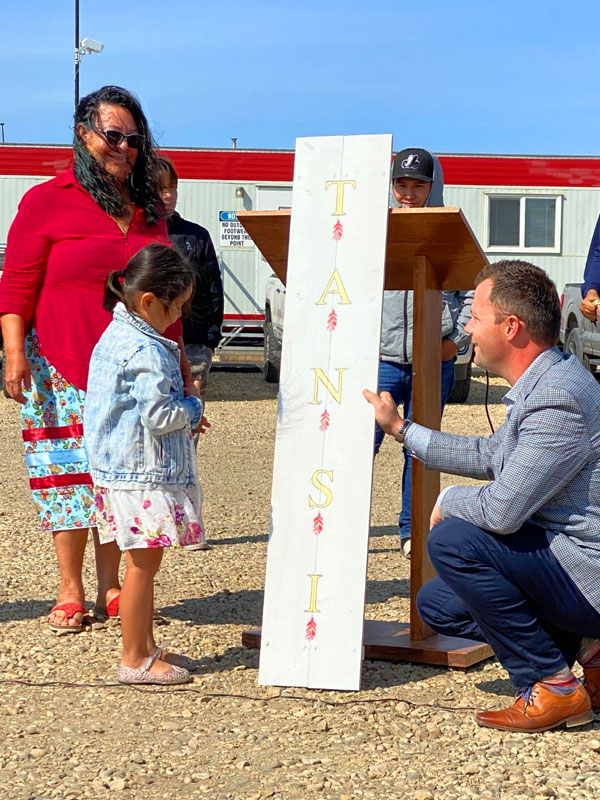 As a symbol of dual respect, the Alexander First Nation community participated in the ribbon cutting for the Key Access Pipeline System (KAPS) project. Pictured here is Lorianne Paul aside Kiyanni Paul as she presents artwork to Pipeworx Senior Vice President & General Manager Chad Johannsen that says "Tansi" (translating to "Hello"). Additionally, elders played the drums, symbolizing support and respect from the nation to Pipeworx.
Pipeworx, a PLH Group company, is one of the most innovative and respected pipeline contractors in Western Canada. Known for safely performing quality workmanship on time and within budget, Pipeworx delivers pipeline, facility, integrity, and fabrication services throughout the Western Canadian Sedimentary Basin. Prior to the formation of ABC, Pipeworx participated with companies owned by Alexander First Nation band members to support local projects. After the ABC's establishment, Pipeworx expanded its collaboration.
"When we wanted to create our own Tier 1, 100% nation-owned horizontal directional drilling (HDD) business, Pipeworx stepped up to the plate," said ACC Chief Operating Officer Kris Vanderburg. "They were strategic and really helped us create this business."
In the process of creating this company, skilled experts at Pipeworx worked alongside ACC to establish a sustainable HDD company that empowers nation members through methodical training, reliable employment, and workforce development. Before the business was even fully operational, Pipeworx and ACC signed a two-year HDD contract commitment, giving ABC the certainty they needed to plan for future growth.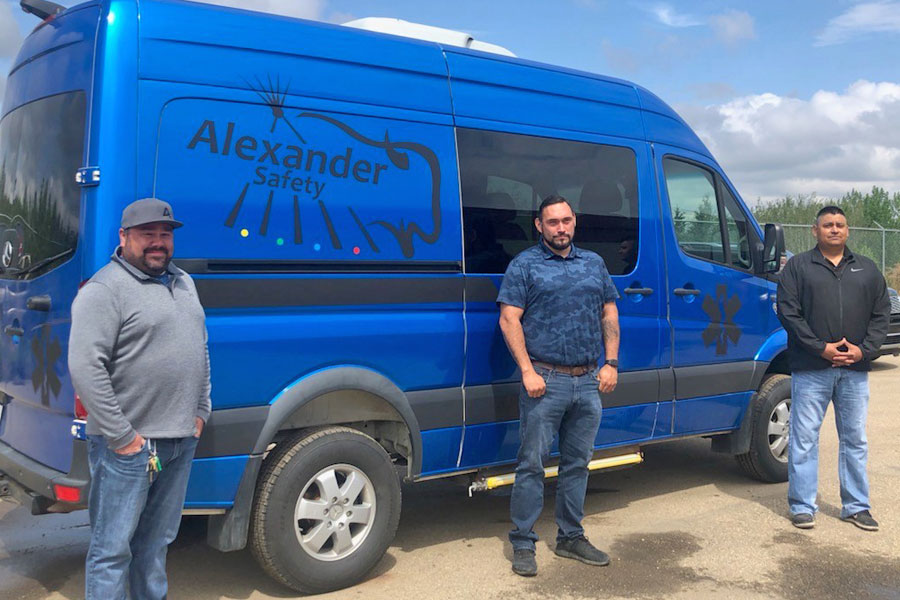 "When we work with business partners, we want open, early, honest dialog, so they can understand the unique needs of our nation. Pipeworx is moving the needle in this space by not only having these conversations with us, but genuinely listening to us and taking appropriate actions as a result," said Vanderburg. "Other companies aren't aligning with what Pipeworx is doing for the nation. Pipeworx gives our people the ability to plan, train career employees, and rely on this work. This is creating a real, long-lasting benefit for the community. To me, that's what reconciliation is."
Pipeworx and ACC have now embarked on their first project together— Keyera's Key Access Pipeline System (KAPS). When completed, this project will transport condensate and other petroleum liquids produced with natural gas from the Montney and Duvernay regions to the liquids processing and storage hub at Fort Saskatchewan. The scope of work for the Pipeworx and ACC partnership includes the installation of 16 inch and 12 inch pipelines running 254 km throughout Alberta.
"We are honored to work with the experts at ACC. Their employees know the industry and their trades while aligning with our safety and quality standards. I am confident that the Pipeworx promise of quality, trust, reliability, and safety will continue to be upheld throughout the project," said Pipeworx Senior Vice President & General Manager Chad Johannsen. "ACC has been a noticeable contributor to our project delivery."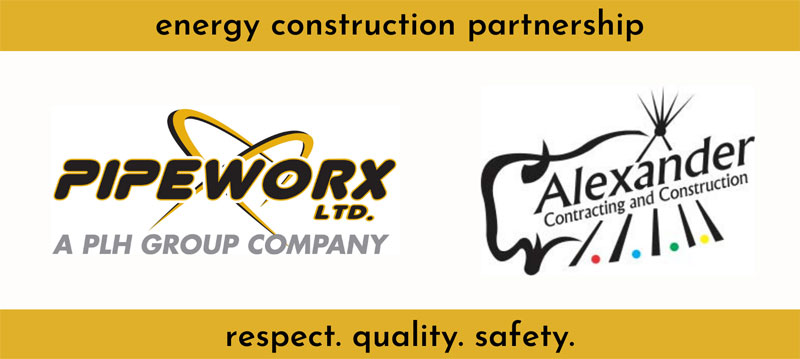 "Our partnership with Pipeworx provides direct benefits to the people of Alexander First Nation through investment, revenue, employment, and training. We are creating development opportunities for band members that benefit entire families, which ultimately will create generational change," said ACC Project Manager Nolan Arcand.
Thanks to the successful establishment of the jointly-created HDD business, the partnership will not end with the conclusion of Keyera's KAPS project. The organizations are already strategically partnering on pursuing new work together.
"Pipeworx is a proud advocate of Alexander Business Centre. If they need anything, we vow to work hand-in-hand with them as they grow their energy-focused businesses. We would love to provide opportunities and offer inclusion for other nations, as well, stemming a ripple effect throughout the energy industry to create lasting changes for these communities," said Pipeworx Indigenous Relations Manager Chad Wagner.
"Pipeworx is taking small steps that can actually lead to generational changes in the community. Now what happens if all companies – small or big— are like Pipeworx and took a step – one little step? Think of the changes that would make in the community," challenged Vanderburg. "I commend Pipeworx for moving the needle, and hopefully others can follow their lead."
About Alexander Business Center
Alexander Business Centre (ABC) is a fully-developed, Alexander First Nation corporation that strategically aligns its community members and resources to continually grow their skills, knowledge, and capabilities through transparent and active industry collaboration. ABC stimulates reliable economic growth through economic diversity for long-term success that recognizes cultural traditions and environmental responsibility and respect.
Pipeworx, Ltd. – a PLH Group company – is a pipeline construction contractor specializing in pipeline construction and maintenance, facility installation, modular construction, fabrication, and heavy haul and transportation across the Western Canadian Sedimentary Basin. The organization prioritizes safety and quality workmanship that is completed on time and within budget. PLH Group consists of top-quality companies that collaboratively deliver electric power and pipeline services covering the broad range of needs of its customers throughout North America – from pipeline construction and related directional drilling to electric transmission, distribution, and substation construction, including specialized foundations and helicopter airborne operations.