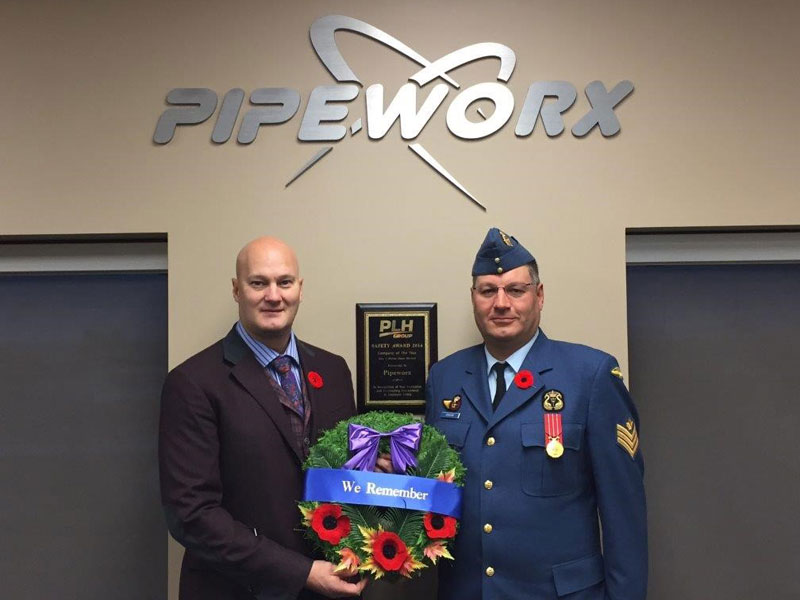 It's been many years, but the memories of fallen fellow soldiers remain fresh for Troy Graham.
As a member of the Canadian Airforce, Troy Graham witnessed the realities of serving for his country. "Even though I served during peacetime, I have lost a couple of my buddies," Troy commented.
Troy, a native of Lethbridge Alberta, who joined the service in 1990, found his niche in the Airforce overseeing Quality Control for the Non Destructive Testing Unit. He became an expert in developing technical manuals, compliance codes and coordinating daily with senior management. All skills highly valued by his current employer Pipeworx, Ltd. a pipeline construction company headquartered in Acheson, AB.
However, the days leading up to November 11th, Remembrance Day (US Veteran's Day) are particularly important to Troy. His mission is to raise funds for the Poppy Fund and prepare for Remembrance Day Activities. This year was especially meaningful for Troy, he enlisted the help of fellow Pipeworx employees and Senior Management. Passing out Poppy stickers to the field staff for their hard hats in exchange for a small donation raised $90.00, but the next step is what surprised him.
Troy approached Senior Management to donate a wreath to the upcoming Remembrance Day Service in Okotoks, Canada. Not only did Pipeworx donate a wreath, but also made a cash donation to the Poppy Fund. Upon receiving the news, PLH Group (parent company of Pipeworx) a steadfast supporter of US and Canadian Service members, also donated to his cause.
"It is an honor to support Troy, it is a small way we can say thank you to our troops and their families' sacrifice by remembering that the work they do is a source of great inspiration and hope," said Kelly Gillam, President of Pipeworx.
Troy reminds everyone with these solemn thoughts, "Even though we live in a peaceful democracy, it comes at a price. This is the time to say thank you, they may be gone but never forgotten."
The annual Okotoks Remembrance Day Service will take place at the Pason Centennial Arena, which accommodates 2400 people on Wednesday, November 11, 2015 starting at 9:30am. The service is supported by the Royal Canadian Legion, in conjunction with the Town of Okotoks. Troy will be in full uniform laying the Pipeworx wreath. His thoughts will be with his buddies who served so bravely with him.