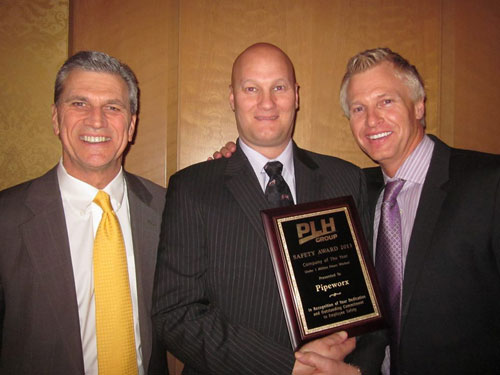 Pipeworx is pleased to announce it received the Company of the Year Safety Award from the 2013 PLH Group, Inc. companywide contest.
Judging was based on the extensive efforts to promote and improve safety in the pipeline industry. Pipeworx was subjected to a full safety program review and practice examination by PLH Group Senior Safety Management. This award represented the very best of the Pipeline, Electric Power and Energy and Industrial divisions of PLH Group of companies.
"This award reflects the hard work by all the field staff to the office staff. We are very proud to accept this recognition. The award reflects our commitment to sustaining a culture of Safety First with our workforce," commented Kelly Gilliam, President and CEO.
About Pipeworx, Ltd.
Pipeworx Ltd. specializes in pipelines ranging in size from 2" to 20"+, 25 full pipeline and facility installation crews and equipment capable of a broad range of facility installations, including batteries, compressors, large processing plants, maintenance projects as well as SAGD projects. In addition, Pipeworx provides modular construction services to the energy industry including structural steel fabrication, pipe fabrication and assembly.
Pipeworx's large regional foot print spans from Northern British Columbia, Alberta, Saskatchewan to Manitoba with fabrication facilities located in Grand Prairie, Aldersyde and Acheson. Acquired in 2013 by PLH Group Inc., which is headquartered in Dallas, TX, provided Pipeworx the financial and management support required to expand its service territory in Western Canada.
About PLH Group, Inc.
PLH is a leading provider of construction and maintenance services to the electric power delivery and pipeline industries in North America. Its customers include many of the largest utilities, regional cooperatives, renewable energy developers, commercial and industrial customers, and major oil and gas producers and midstream companies. PLH, a company started by Energy Capital Partners (www.ecpartners.com), has acquired Sun Electric, TESSCO, AIR 2, Auger Services, Snelson Companies, IPS Engineering, Southeast Directional Drilling, M&M Pipeline Services, Energy Services South, Pipeworx, and TTR Substations. PLH is actively seeking to expand further its service offerings and geographic footprint. For more information, visit www.PLHGroupInc.com.
About Energy Capital Partners
Energy Capital Partners is a private equity firm with offices in Short Hills, New Jersey and San Diego, California. Energy Capital Partners has over $8 billion of capital commitments under management and is focused on investing in the power generation, electric transmission, midstream gas, renewable energy, oil field services and environmental services sectors of North America's energy infrastructure. The fund's management has substantial experience leading successful energy companies and energy infrastructure investments. For more information, visit www.ecpartners.com.


Share This Article

Subscribe to our RSS Feed. What is RSS?